Off the Grid: Wild West – Cabo de Gata
Wir führen dich zu einem andalusischen Juwel, das in den letzten Jahrzehnten in Vergessenheit geraten ist: Das Cabo de Gata und seine überwältigenden Pfade zu den verlassenen Minen. Auf unserem Weg nach Osten treffen wir auf unglaubliche Off-Road-Tracks entlang der Sierra Nevada, bevor wir Guadix erreichen. Wir bringen dich zum Cortijo del Fraile, einem bekannten und verlassenen Cortijo mit unzähligen Geschichten. Danach fahren wir durch die Tabernas Wüste, die als einzige Wüste Europas bekannt ist und ein ikonischer Drehort für viele Westernfilme und Serien, wie z.B. Game of Thrones ist. Und gerade wenn du denkst, dass es keinen weiteren Höhepunkt geben kann, zeigen wir dir den Playa de los Genoveses, der als schönster Strand Spaniens gilt.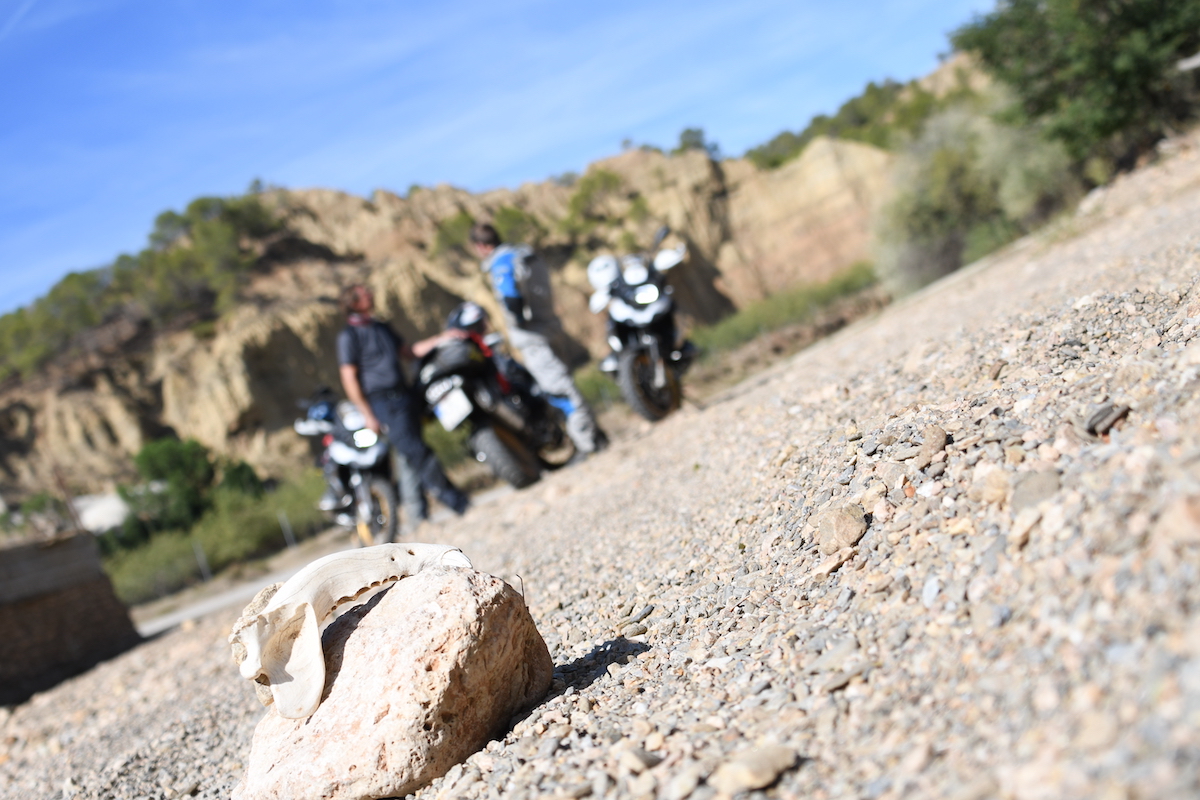 OTG Wild West – Cabo de Gata          2.100,00 €
In der fünftägigen Abenteuertour enthalten::
7 Tage / 5 Tage Offroad-Fahrtage
1 Tag Offroad-Training im Enduropark Andalusia
4 Tage Offroad-Tour
6 Übernachtungen
5 Tage R1250GS + Benzin
5 Tage Offroad Instructor
Zusätzliche Kosten: Alle Leistungen, die nicht im Tour-Preis aufgeführt sind, wie Flüge, Flughafentransfer, Mittag- & Abendessen und Trinkgelder.
Diese spezielle Offroad-Tour ist nur zweimal im Jahr verfügbar. Warum?
Denn diese Tour deckt alles vom Meeresspiegel bis zu einer Höhe von 2.160 m ab – was bedeutet, dass im Winter eine hohe Schneewahrscheinlichkeit besteht!
Die Höhepunkte sind schwer zusammenzufassen, da sie unzählig sind: Ausgehend von fantastischen Flussbetten, die unsere Fähigkeiten im Offroad-Fahren herausfordern, wunderschönen Landschaften mit den schneebedeckten Gebirgszügen der Sierra Nevada, unglaublichen Pfaden durch die Wüste von Tabernas und natürlich den erstaunlichen Strände von Cabo de Gata.
Route:
Tag 1 Ankunft und Begrüßungsbesprechung
Tag 2 Offroad-Training bei der EPA
Tag 3 EPA nach Guadix (260km / 170km off-road)
Tag 4 Guadix – Tabernas – Cabo de Gata (230km / 180km off-road)
Tag 5 Cabo de Gata – Guadix (220km / 170km off-road)
Tag 6 Guadix – EPA Workshop (240 km / 120 km off-road)
Tag 7 Abreise
START / ENDE: Málaga, ESP NÄCHSTER FLUGHAFEN: Málaga (AGP)
DAUER: 7 Tage / 5 Offroad-Tage ESSEN & UNTERKUNFT: 6 x Bed & Breakfast
KOMPLETTE DISTANZ: 1000km – 1200km TÄGLICHE DISTANZ: 200km – 400km
TOUR PROFILE:
70 Off / 30 On
SKILL LEVEL:
Adventure Rider / Sand experience