Off the Grid: Wild West – Cabo de Gata
We take you to an Andalusian gem, which has been forgotten over the past decades: Cabo de Gata and its mind-blowing off-road trails towards deserted mines. On our way to the East, we hit incredible off-road tracks along the Sierra Nevada in order to reach Guadix, where we will stay in one of the famous Cave Hotels. We take you to Cortijo del Fraile, a well-known and abandoned Cortijo with countless stories. Discover Tabernas, known as the only desert in Europe and an iconic film location for many Western movies and series, such as the Games of Thrones… And just when you'll think there cannot be another highlight, we show Playa de los Genoveses, ranked as the most beautiful beach in Spain.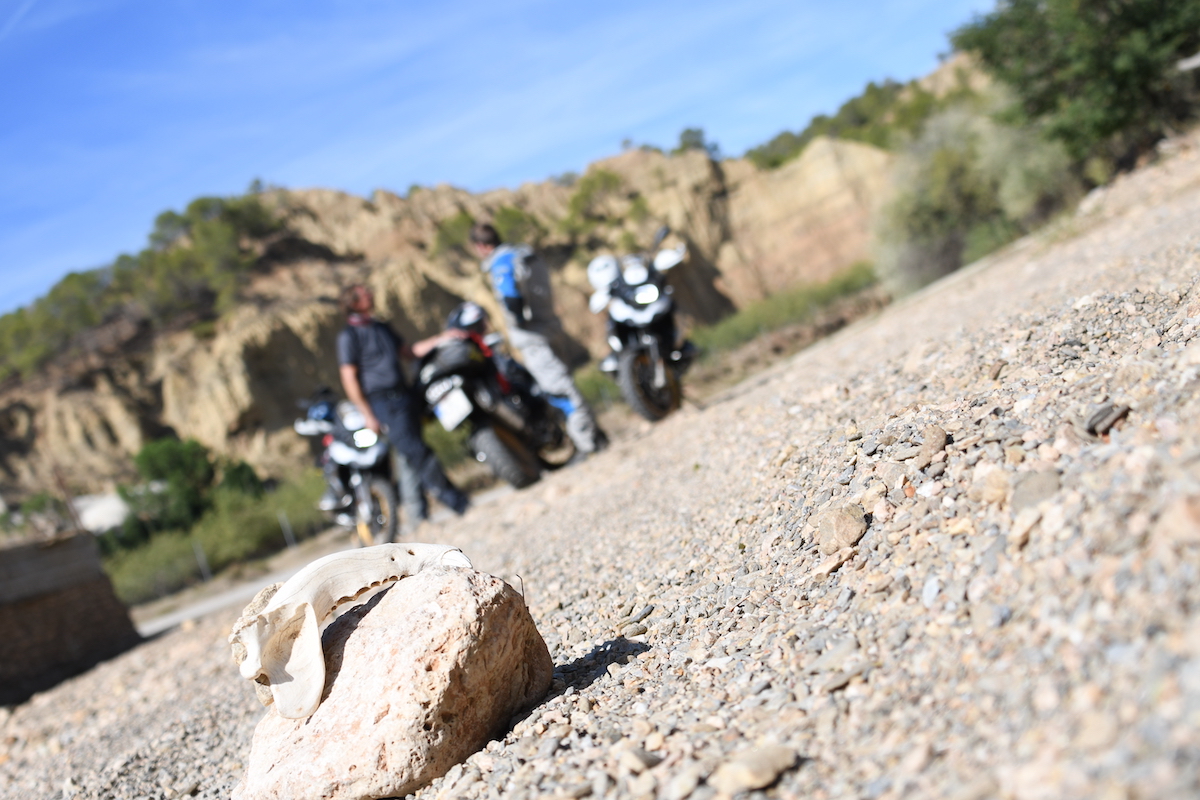 OTG Wild West – Cabo de Gata          2.100,00 €
Included in the 5 day adventure:
7 days / 5 off-road riding days
1 day off-road training in the Enduropark Andalusia
4 days off-road tour
6 times bed & breakfast
5 days R1250GS + petrol
5 days Offroad Instructor
Additional costs: All services that are not listed in the included tour price chapter like flights, airport transfer, lunch, dinner and tips.
This special off-road tour is only available twice a year. Why?
Because this tour covers everything from sea level to an altitude of 2,160 m – meaning during winter time there is a high probability of snow!
The highlights are quite hard to summarize as they are uncountable: Starting from awesome river beds that challenge our off-road riding skills, beautiful landscapes showing the snow-covered Sierra Nevada mountain ranges, incredible trails through the Desert of Tabernas and of course the amazing beaches of Cabo de Gata.
Itinerary:
Day 1 Arrival and Welcome briefing
Day 2 Off-road Training at EPA
Day 3 EPA to Guadix (260km / 130km off)
Day 4 Guadix – Tabernas – Cabo de Gata (230km / 180km off)
Day 5 Cabo de Gata – Guadix (220km / 170km off)
Day 6 Guadix – EPA Workshop (270km / 120km off)
Day 7 Departure
START / FINISH:
Málaga, ESP
NEXT AIRPORT:
Málaga (AGP)
DURATION:
7 days / 5 off-road days
FOOD & ACCOMMODATION:
6 x Bed & Breakfast
TOTAL DISTANCE:
1000km – 1200km
DAILY DISTANCE:
200km – 400km
TOUR PROFILE:
70 Off / 30 On
SKILL LEVEL:
Adventure Rider / Sand experience